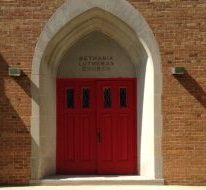 Welcome to Bethania Church! Thanks for taking a look. And we hope you'll take an even closer look by stopping by in person someday soon. Yes, we're the church that may be well known in the Racine area for some special events like our Danish Christmas Eve worship service and our 'Fat Sunday' Abelskiver meal. But what really makes us special is the warm welcome and meaningful worship you will find here week after week.
Worship is central to who we are as the people of God in this place.
The Lord's Supper is celebrated the first Sunday of the month. As a congregation of the Evangelical Lutheran Church in America, we believe and teach that Jesus Christ is the host of this meal and that everyone is invited to come to his table. At Bethania, the worship experience is enhanced by the gifts of our talented musician, regular Children's Chats for our little ones and authentic preaching.
We offer online worship at: https://www.facebook.com/BethaniaLutheran As well as, in person worship in our Sanctuary on Sunday Mornings at 9:30 a.m.
Our building regularly hosts community organizations and service groups. If your group is looking for a new location, Bethania Church might be able to offer just the space you need. We welcome further opportunities to be a part of the lives and activities of our neighbors and of this community.
Whatever it is that brings you here today – the search for a new church home, information on a special event or new space for group meetings – we're glad you found us! You can reach us by phone at 262-632-7267 or by sending an email to bethania@wi.twcbc.com
Whatever the circumstances of your life – whether you continue to experience a rich and lively relationship with Jesus, struggle with past church experiences or with finding your own place in the story of God or if you are just beginning to explore that longing for 'something more' in your life – perhaps it is no accident that you landed here. Jesus says to those who come into his presence, "Come and see." On behalf of the followers of Jesus here at Bethania, we invite you to do the same: Come and see!
Our Danish Christmas Eve Service is held every December 24th at 3:00 p.m.
It is entirely in Danish except for the Sermon.
Vores danske juleaften afholdes den 24. december kl. 15.00 Det er helt på dansk bortset fra prædiken.